Traditional Japanese Wedding Kimonos - A Definitive Guide
Posted by CUSTOMER SUCCESS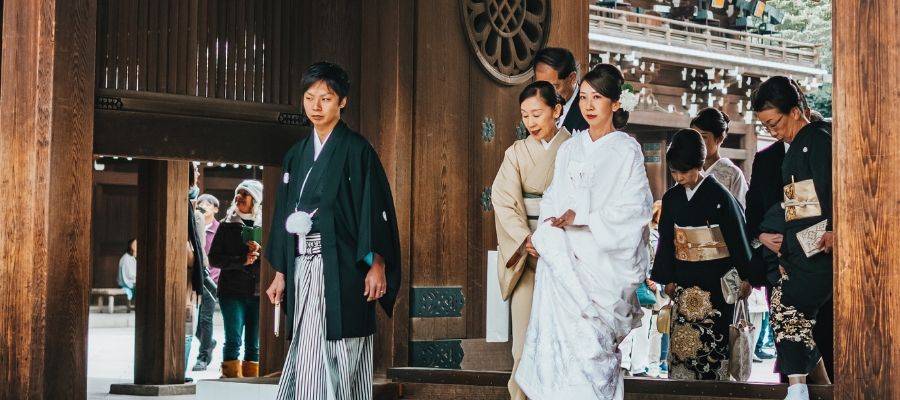 In this blog post, we'll explore traditional Japanese wedding Kimonos and find out a little more about Japanese wedding kimono history. Whether you're considering getting married in a traditional Kimono yourself or are simply curious about Japanese kimono culture we're sure you'll find something of interest in the article below.
If you've read any of our other blog articles you'll know that word 'Kimono' literally translates as 'a thing to wear' and as such actually describes many different styles of traditional Japanese clothing. Just as there are many different styles of Kimono to choose from depending on the occasion, there are also many different types of wedding Kimono from which to choose. Below we'll describe the different types of wedding Kimono in detail and let you know a little about the history of each.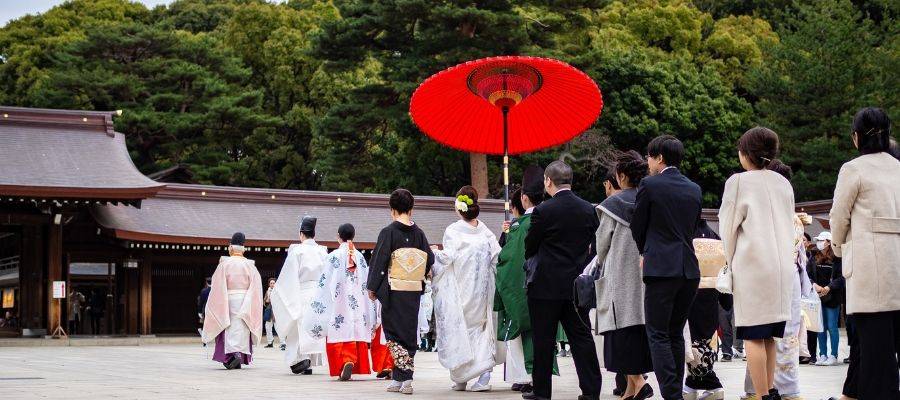 Bridal Party Wearing Traditional Japanese Wedding Kimono
The shiromuku (translated pure white) is a complete wedding ensemble which has been worn by brides in shinto wedding ceremonies since the Muromachi period (1336 to1573). The entire shiromuku outfit consists of white undergarments, a white furisode with trailing hem called kakeshita (or shiro-kakeshita, "shiro" meaning white), ornate white obi, white obi-age and obijime, and a heavily-decorated, embroidered over-kimono worn loose named uchikake (or shiro-uchikake). The bride also wears tabi socks and zori sandals, and, additional accessories worn with the Shiromuku include a small sworn (懐刀: futokorogatana) and small box (箱迫: hakoseko) with a hand mirror or comb in it. Brides would also carry a gold or silver fan (扇子: sensu). The white fabrics of the ensemble are often decorated with auspicious symbols such as the crane, bamboo or tortoises and the white colour of the outfit is thought to symbolise the purity of the bride as well as signifying a new beginning or 'clean slate'. Shiromukus white colour also symbolises the bride's willingness to take on the 'colours' of her new family.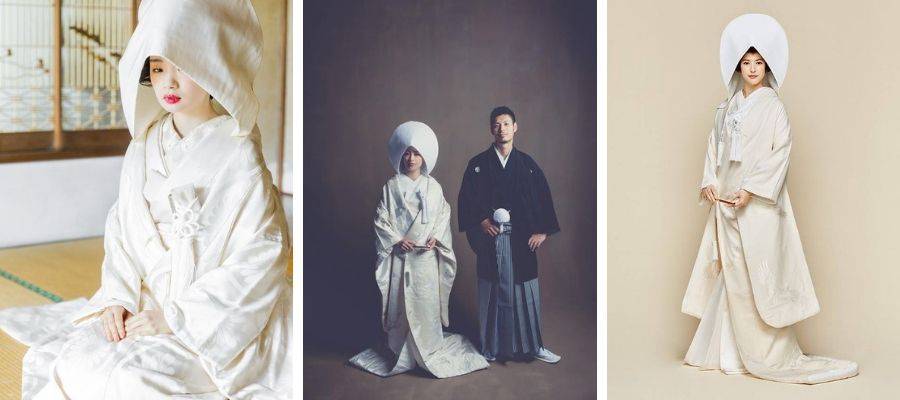 Shiromuku Wedding Kimono -
Images curtesy of Pinterest
A traditional Shiromuku outfit has two white hoods called wataboshi(綿帽子) and tsunokakushi(角隠し). The wataboshi is worn during the wedding ceremony with the tsunokakushi being worn afterwards during the reception. Modern brides generally only wear one style of hood, choosing whichever of the two styles they prefer. There are many different theories as to the origins of the bridal hoods. Some theories claim that the hoods were intended to symbolise the bride becoming obedient to her new husband by covering her head, others state that the hood was meant to hide the bride's long hair wherein bad spirits may have been hiding. Another theory speculates that the hood was purely functional and for the purpose of protecting the bride's elaborate hair and makeup from dust before the ceremony. Still other theories claim that the hood served a similar purpose to that of the western bridal veil though shielding the brides face from the wedding party until she is revealed to her groom at the altar. Because the cost of a full Shiromuku wedding outfit can be incredibly expensive many shrines own a collection of shiromuku which can be rented for the day.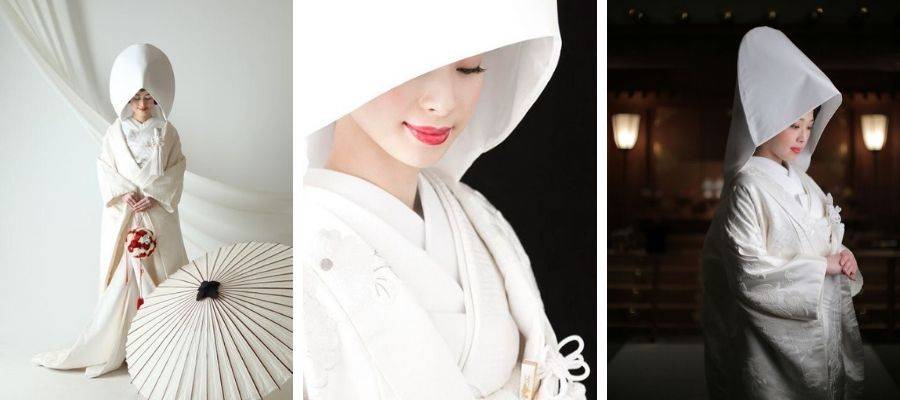 Wataboshi Wedding Hood
- Images curtesy of Pinterest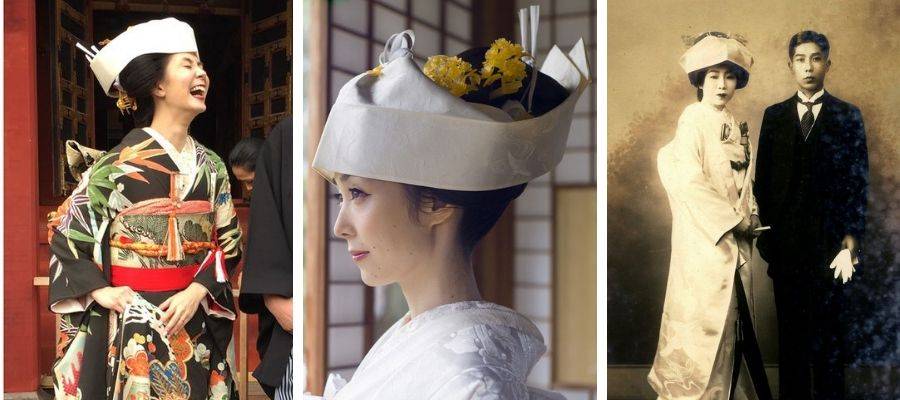 Tsunokakushi Wedding Hood -
Images curtesy of Pinterest 
Beginning in the Edo period (1603-1868) a new style of traditional Japanese wedding kimono became fashionable for brides from wealthy and noble families. This new type of wedding outfit was called iro-uchikake and was worn by brides after the wedding ceremony for the reception. The Japanese wedding kimono 'uchikake' is a very colourful and highly ornate outer garment which also often features auspicious motifs woven or embroidered throughout. The most common colour for iro-uchikake is red but other colours such as pink or purple are also common. Traditionally the bride would remove her white shiromuku overcoat after the wedding ceremony and replace this with a brightly coloured iro-uchikake for the duration of the reception.
Iro-Uchikake Wedding Kimono -
Images curtesy of https://www.the-kimonoshop.jp
Another style of traditional Japanese wedding kimono is the hikifurisode. Translated as 'trailing furisode', hikifurisode is characterised by its light colours and small, slightly padded, trailing hem. Unlike other furisode which are worn folded at the waist, the hikifurisode is worn without the fold meaning it trails behind the bride as she walks. Hikifurisode became popular during the late Edo period, probably due to the fact that the ensemble was less expensive than the shiromuku/iro-uchikake. Many hikifurisode feature auspicious embroidery patterns and are worn with a traditional Japanese bridal hairstyle. Today many brides wear the hikifurisode as the third change of outfit during the wedding day celebrations, after the shiromuku (for the ceremony) and the iro-uchikake (for the reception).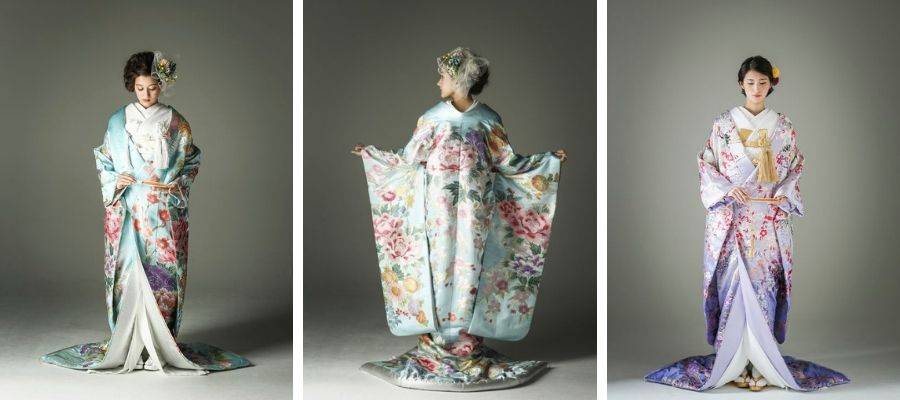 Hikifurisode Wedding Kimono
- Images Curtesy of https://www.the-kimonoshop.jp
Modern Wedding Kimono Styles
Modern reinterpretations of the traditional wedding kimono might include sheer organza iro-uchikake, shiromuku worn with a western-style bridal veil or a mix of hikifurisode and uchikake with a western-like long trail.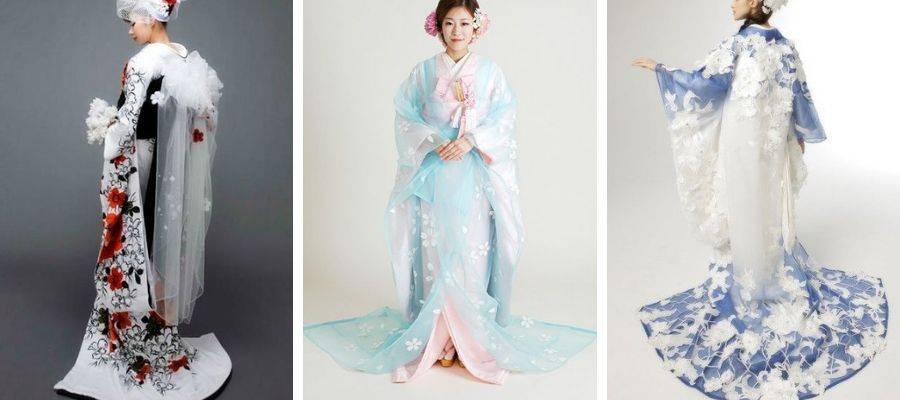 Modern Wedding Kimono Styles
- Images curtesy of Pinterest
Bridal Kimono Accessories

A ceremonial headdress in pure white worn only with shiromuku
Tsunokakushi (bridal headdress)
Another type of pure white ceremonial headdress worn with shiromuku but unlike wataboshi which can only be worn with shiromuku, tsunokakushi can be arranged with any formal dress.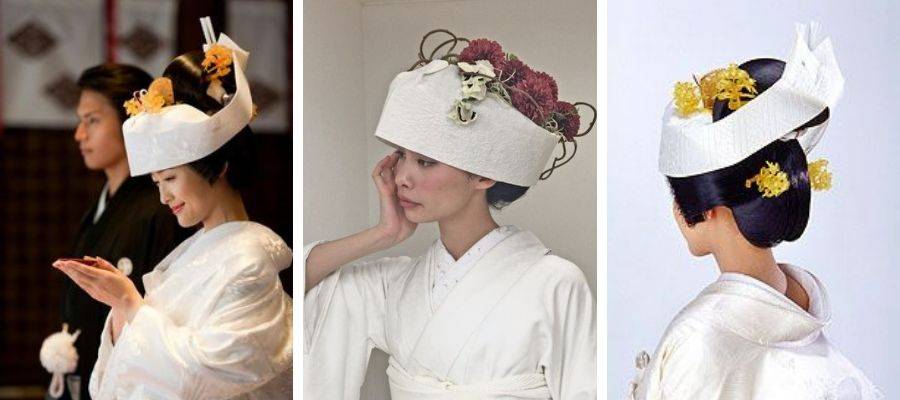 Tsunokakushi (bridal headdress)
- Images curtesy of Pinterest
Kaiken (ceremonial dagger)
Traditionally kept in a decorative case and tucked into the obi, the kaiken gained popularity during the Samurai period. Today kaiken are purely decorative.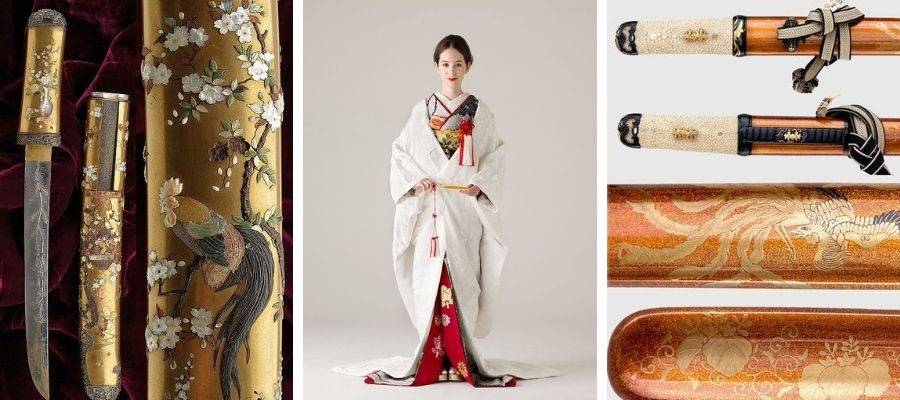 Kaiken (ceremonial dagger)
- Images curtesy of Pinterest
Hakoseko (ornamental pocketbook)
Worn with hikifurisode, the hakoseko is similar to a cosmetic bag and is used to carry makeup or other essential items such as a small mirror and comb.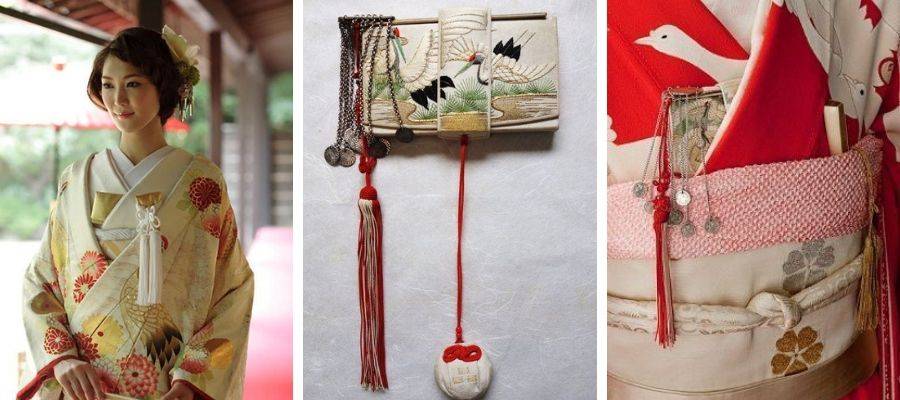 Hakoseko (ornamental pocketbook)
- Images curtesy of Pinterest
The higher the heel the more impressive the bride. Traditionally gold zori are worn by the bride but for a shiromuku ensemble pure white zori are required.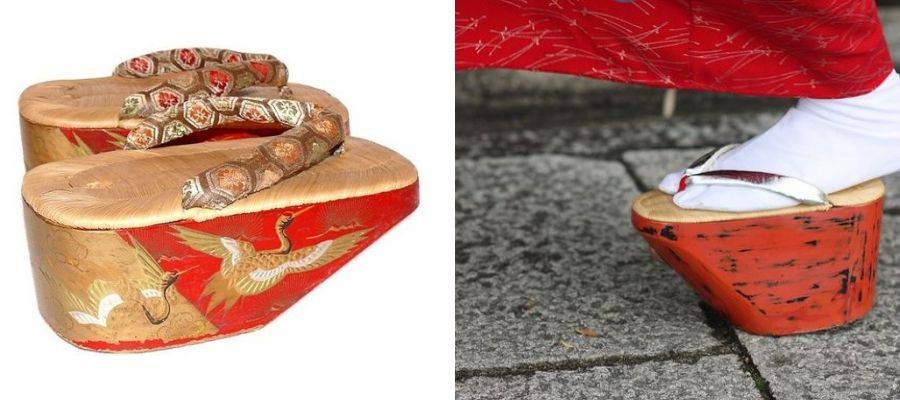 Suehiro (ceremonial folding fan)
A folding fan customarily held by the bride. 'Suehiro' derives from the saying 'may your happiness spread forth like a fan (suehirogari)'. Often colored in gold or silver. When worn with shiromuku the fan would have one white surface or be kept in a white case.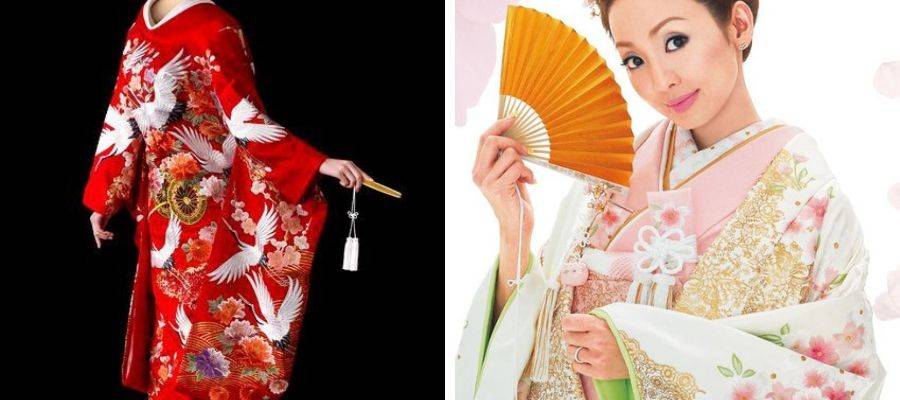 Traditional Bridal Hairstyles and Wedding Bouqets
The traditional Japanese bridal hairstyle is very sculptural with every hair strictly in place. The hairstyle is accentuated with traditional hair ornaments. Modern brides favour a softer style and often choose a loose chignon bun at the nape of the neck which is highlighted with delicate floral arrangements. The traditional bridal bouquet is formed in the shape of a ball and is held by a silk cord.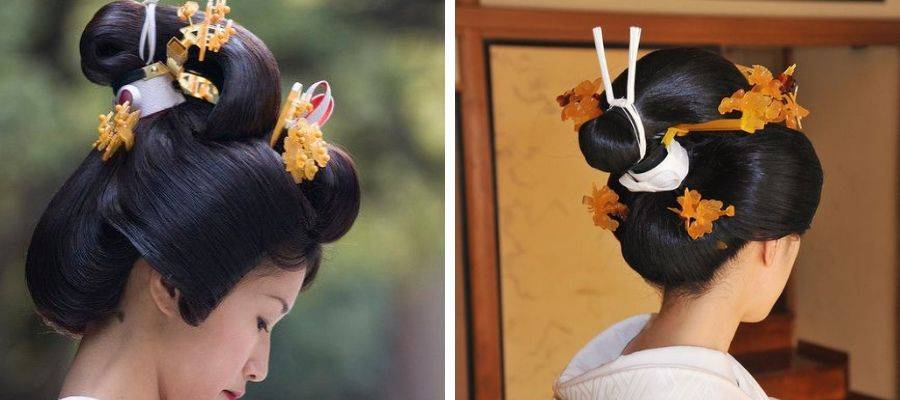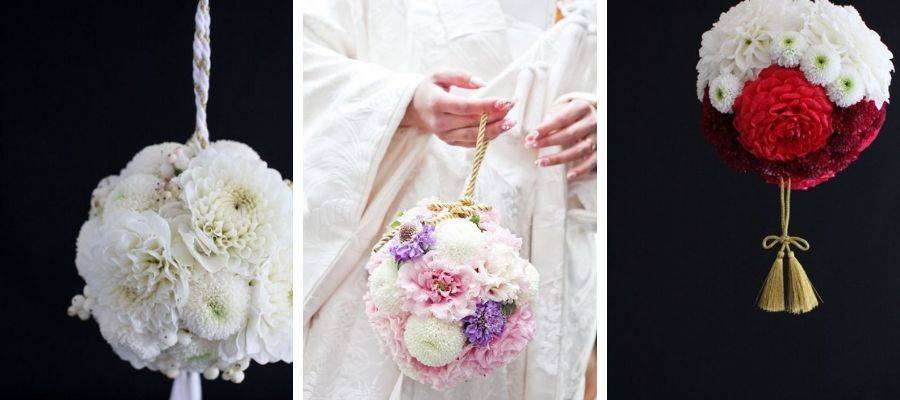 So how about you? Would you be interested in incorporating elements of a traditional Japanese wedding kimono into your bridal look? Or perhaps you've decided on a complete Japanese wedding kimono ensemble? Just want to say hi or blow us a kiss? Send us a message via Instagram 
Modern Archive xx
Modern Archive is an online space for textile lovers. We're especially obsessed with everything to do with Japanese Kimonos, Ai-zome and Shibori. We write about things that we like in our kimono magazine and occasionally host pop-up events. Find us on Instagram, Pinterest or Facebook. Send us an email to hellomodernarchive@gmail (or blow us a kiss).
Collection 2019
Sale 70% Off
Title for image