Shibori Arimatsu - Everything You Need to Know
Posted by CUSTOMER SUCCESS
For those not familiar with the term, Shibori describes a technique through which fabric is dyed in wonderfully three-dimensional patterns and prints. Shibori as a dying technique enjoys a long and rich cultural tradition within Japan and has been used to enhance the beauty of traditional Kimono fabrics for hundreds of years. 

The village of Arimatsu is considered to be the absolute centre of Japanese Shibori. The tradition of Shibori dyeing in Arimatsu village has its origins in the early Edo Period (1600s). During this time Arimatsu was one of the 53 government sanctions stops on the busy Tokaido highway connecting Tokyo and Osaka. The constant influx of travellers passing through the village provided many locals with business opportunities and one such entrepreneurial local began to offer hand towels for sale which he had dyed in a tie-dye pattern. As the towels gained in popularity and the business grew other craftspeople started to develop their own shibori textiles. Before long an entire industry had formed around shibori techniques. During its peak, hundreds of skilled shibori artists lived and worked in Arimatsu and the village is credited with creating many of the shibori patterns now infamous throughout Japan and the world.
As the mid-19th century ushered in a new era of mechanical production the craftspeople of Arimatsu also developed and adapted their dying techniques to allow for faster manufacturing times. One of the new techniques developed, Arashi Shibori, involved binding the cloth around poles rather than manually stitching or folding. This allowed for much faster and more prolific production and as a result, Arashi Shibori is well known throughout Japan. Read about Japanese kimono culture.
Arimatsu Shibori Techniques
The process through which shibori patterns are created involves manually manipulating the undyed cloth prior to dying in a variety of patterns. This is done either by clamping, folding or sewing the undyed fabrics. The fabrics are then submerged in dye. Once an adequate saturation of colour has been achieved the claps, stitches or folds are removed revealing undyed fabric beneath. The strong contrast between the dyed and undyed fabric creates wonderfully graphic patterns.  The process of manufacturing shibori fabrics is highly labour intensive and traditionally a textile artist would need to train for at least 3 years before being considered adequately skilled. To produce shibori patterns three craftspeople, each trained in a different skill set were required. One person would be responsible for the application of the stencil onto the undyed fabric, another for the tying, stitching or folding of the cloth and another for the dying process. Many of the skilled craftsmen and women still working in Arimatsu have been practising their technique for over 60 years and are considered masters of their craft. Further reading about Japanese shibori here.
Below is a small list of some of the shibori techniques developed in Arimitsu: 

Nuishibori (sew and tie before dyeing)

Kumo Shibori (spider- web shaped pattern)

Sekka Shibori (flower pattern)

Miura Shibori (tie-dye method invented by the wife of a doctor in Ohita)

Kanoko Shibori (dappled pattern)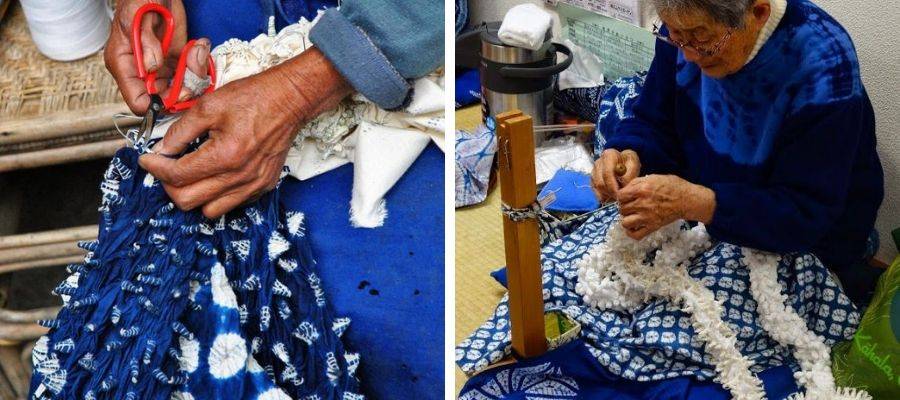 Kukuri (tying) of Shibori Patterns


General Production Process for Shibori
1. Katagami Hori (engraving a pattern) - Once a pattern has been decided on a stencil is created 
 2. Shitae Nuri (printing the design) - The fabric is ironed and starched so that it is completely smooth. Once this has been completed the stencil is used to print the design onto the fabric 
 3. Kukuri (tying) - Once the stencil has been printed onto the fabric the design is then stitched, folded or clamped into place. This process is extremely labour intensive and explains the value and associated cost of shibori fabrics. There are literally hundreds of different techniques through which the process of Kukuri can be applied. Additionally, many of the techniques require their own set of tools. 
 4. Dyeing - A specialized craftsman (Someya) dyes the fabric. Generally, the fabrics are dyed using the soak and dye method. A normal piece of cloth requires over 20 repetitions of the dye and soak process. 
 5. Itonuki (removing threads) - Once the fabric has been dyed all of the threads need to be removed. This is a highly specialised task as it is easy to damage the fabric when removing the threads. The Itonuki methods require detailed work and it sometimes takes 3-4 days to remove threads from a roll of fabric. Once the threads have been removed the fabric is steamed.
Two Styles of Stitched Shibori
Arimatsu October Festival
Arimatsu celebrates a festival annually on the first Sunday of October. The festival features three floats inherited from the Edo Period. The floats are five to eight-meters high and highly ornate. Additionally, the floats feature robotic wooden dolls called Karakuri. Guildsmen push the floats through the town. There are also approximately 250 lanterns on display which are lit in the evenings and make a dazzling display.
Arimatsu Shibori Festival
Arimatsu celebrates a shibori festival annually on the 1st and 2nd day of June. The festival is centred around the Arimatsu craftsmen and women with the aim of promoting and protecting the shibori tradition. Shibori techniques and products are showcased and there are many types of shibori products available for sale.

Tie-Dyeing Museum3008 
Arimatsu, Nagoya, 
Aichi, 
Japan 
Neighborhood Midori-ku 
Hours Thurs-Tues 9:30am-5pm 
Transportation From Meitetsu Nagoya Station, take a local Meitetsu train (not express) 30 min. to Arimatsu Station, walk straight out of the station, turn left at the bottom of the stairs, and then turn left at the sign for HATTORI RESIDENCE; the museum will be on the right (5 min.) 
Phone 052/621-0111 
Prices Admission ¥300 adults, ¥100 children 
 This small museum showcases and pays tribute to the shibori process. Visitors can watch a short film explaining the history of shibori and there are mostly several local women on hand practising their trade. Visitors can also partake in workshops during which they are able to create their own shibori textiles.
Arimatsu Shibori Workshop 

There are several different shibori workshops on offer in Arimatsu. Some combine a walking tour of the old city with shibori dying whilst others focus primarily on learning and practising traditional shibori technique.You can find more information about the workshops here
Modern Archive xx
Modern Archive is an online space for textile lovers. We're especially obsessed with everything to do with Japanese Kimonos, Ai-zome and Shibori. We write about things that we like in our kimono magazine and occasionally host pop-up events. Find us on Instagram, Pinterest or Facebook. Send us an email to hellomodernarchive@gmail (or blow us a kiss).
Collection 2019
Sale 70% Off
Title for image