Japanese Kimono Artists - 6 Names You Should Know
Posted by CUSTOMER SUCCESS
The Kimono is one of Japans most recognisable cultural objects, it represents the countries ancient textile tradition and serves as a bridge connecting ancient and modern Japan. But who exactly are the artists behind this unique design treasury? In this blog post we'll explore the work of 5 noteworthy kimono designers as well as discussing some of the techniques used to create these refined kimono designs.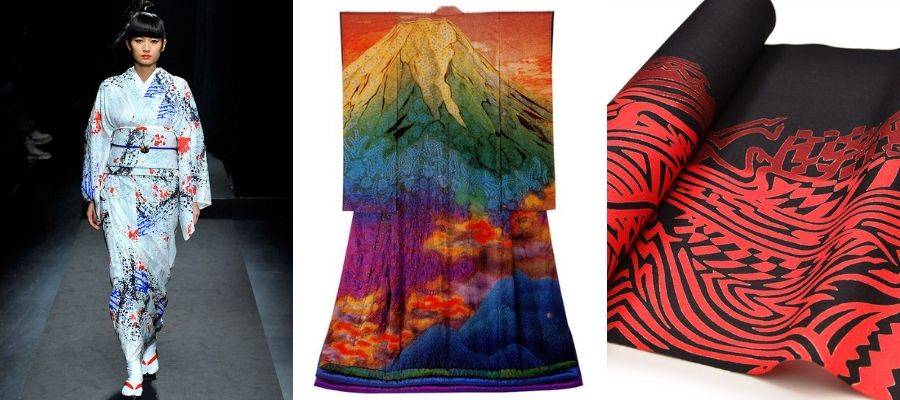 Examples of Contemporary Kimono Design
6 Famous Kimono Designers Whose Names You Should Know
Kubota is a kimono artist credited with reviving the lost art of tsujigahana. Tsujigaha is a technique by which kimono fabrics were dyed which became popular during the 16th century. A type of resist dyeing or shibori, tsujigaha requires a high level of skill to master as well as being incredibly time consuming to create. This means that kimono dyed with tsujigaha were only worn by the upper echelons of Japanese society. Although the exact technique used to create tsujigaha has been lost, Itchiku Kubota recreated the style using his own methods. This style of shibori is known as Itchiku Tsujigahana. Kubotas life work, a set of 80 kimono called the 'symphony of light' which was intended to depict the grandeur of the universe through a picture flowed from one kimono to the next and formed a complete picture across all 80. Unfortunately Kubota died in 2003, having completed 40 of the 80 kimono. Kubotas son and daughter continue his work at the artists studio in Tokyo, Japan.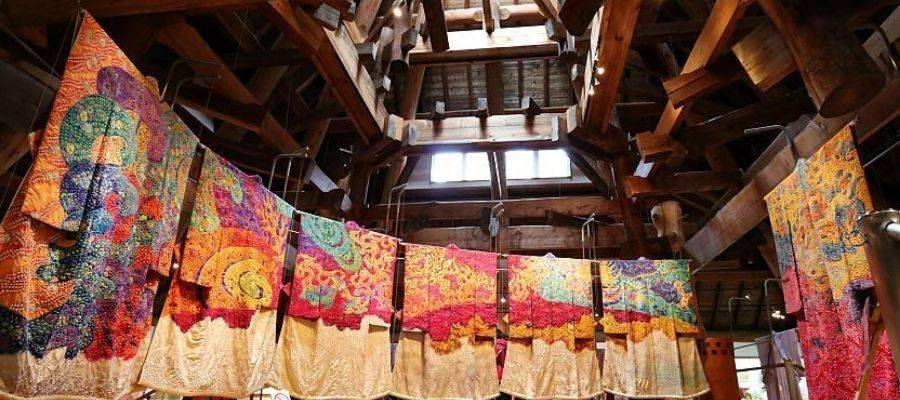 Kubota Itchiku 'Symphony of Light'
- Image curtesy of https://www.japan-guide.com/e/e6912.html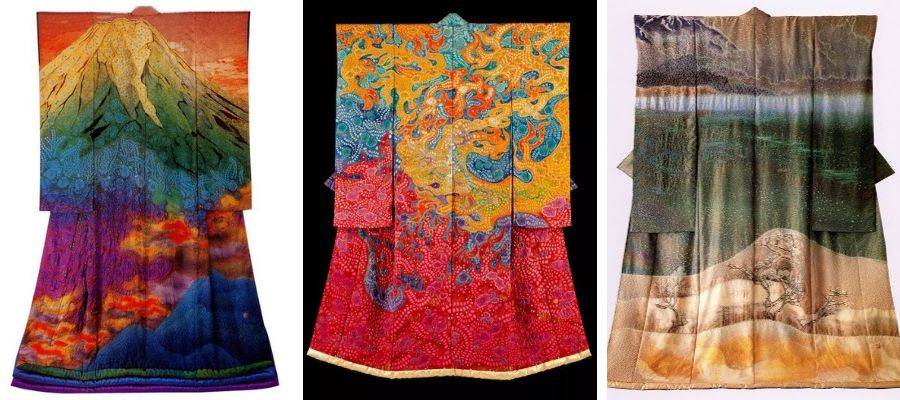 Kubota Itchiku Kimono From the 'Symphony of Light'
- Images curtesy of Pinterest 
Jotaro Saito is a 3rd generation Japanese fashion designer from Kyoto. Both his grandfather and his father were kimono designers and Saito is one of the few contemporary Japanese fashion designers whose work is focused entirely on kimono. Saito has been showcasing his work at the Tokyo Mercedes Benz Fashion Week since 2006. Saito believes that for kimono to survive amongst contemporary Japanese consumers the garment needs to be reimagined as a fashion, rather than a purely cultural item. It is his belief that by changing the way in which kimono are culturally understood some of the restrictive rules concerning kimono etiquette will become more relaxed. Saito hopes that through the relaxing of these rules, which he believes act as a deterrent stopping many modern consumers from enjoying kimono, the contemporary kimono market will be reinvigorated and kimono will become adopted by a new demographic of Japanese consumers. His designs reflect the more informal and relaxed way in which he views kimono dress for example some of his kimono are made entirely out of blue denim, painted with pictures of cats or covered in blue cherry blossoms.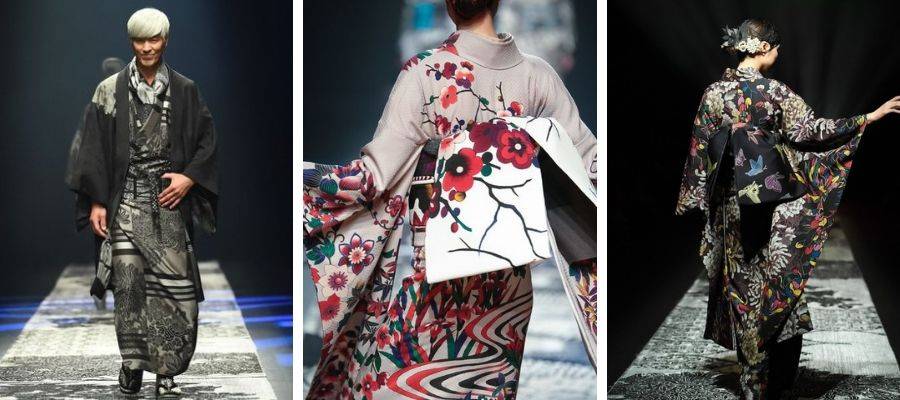 Jotaro Saito 
- Images curtesy of  https://www.fashion-press.net
Hiromi Asai is a Japanese fashion designer based in New York. Asai works primarily with Japanese made kimono textiles, using the fabrics for both her menswear and womenswear collections. Concerned with the general demise of the Japanese kimono and textile industry as well as the resulting loss of knowledge, Asai hopes to help reverse this trend through close collaboration with Japanese artisans. Asai works with Japanese textile weavers, painters and artists to produce the following fabrics for use in her collections. 
 • Jacquard weave 
• Donsu silk damask 
• Rinzu figured satin 
• Chirimen crepe 
• Nuitori embroidery and lacing 
• Bokashizome ombre dyeing 
• Hikizome brush dyeing
 • Yuzen dyeing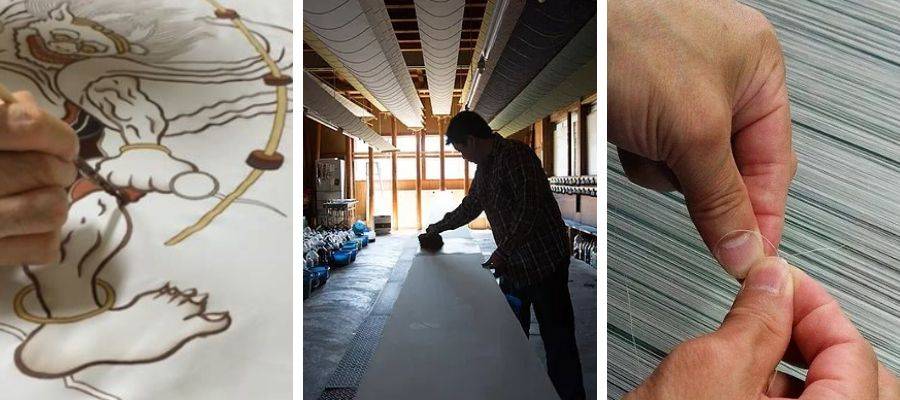 Hiromi Asai - View into the Workshops of the Traditional Japanese Textile Manufacturers with whom she Collaborates 
- Image curtesy of  https://www.hiromiasainy.com/
Rumi Shibasaki of Rumi Rock
Rumi Shibasaki is the kimono designer behind the Tokyo-based label Rumi Rock. Known for its unique unisex kimono and yukata, Rumi Rock specialises in contemporary patterns and prints whilst still maintaing the traditional kimono shape and cut. Shibasaki stated in an interview with soran news that if she had to take on any stance in regards to her work as a designer 'it would be to preserve the culture of the Japanese'. She believes that through reimaging traditional kimono and yukata, for example by way of adding fun prints which reference pop-culture or biker gangs, the kimono and yukata will again become more accessible to a broader demographic of Japanese consumers. This approach seems to have had some success with many attendees of Japanese music festivals spotted wearing one of her contemporary yukata designs.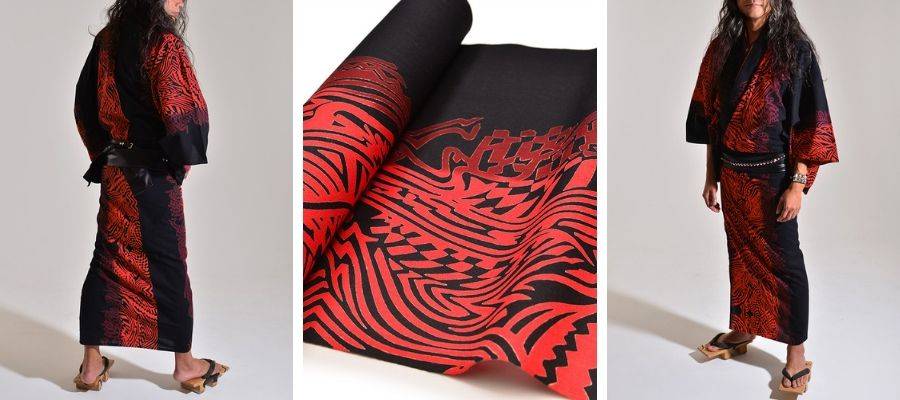 Rumi Rock - Rolling Stones Yukata
- Image curtesy of http://shop.rumirock.com
Yoshiki Hayashi of Yoshikimono
Yoshiki Hayashi is best known as the charismatic frontman of the legendary Japanese rock band 'X Japan', but did you know Hayashi is also a kimono designer? Infact, Hayashi's father was a kimono fabric merchant so designing kimono must be in his genes. Hayashi's kimono label, YOSHIKIMONO, creates modern easy to wear styles which break with traditional etiquette and style the kimono with high-heels, metal studded accessories and leather belts. The fabrics used also embrace a more contemporary aesthetic with shimmering metallics in gold or silver, stretch jersey or knits being seen gracing the runway. Hayashi wants to see Japanese people embrace the kimono as a modern fashion garment and to feel more free about how they might wear it. A rock and roll kimono makeover if you will.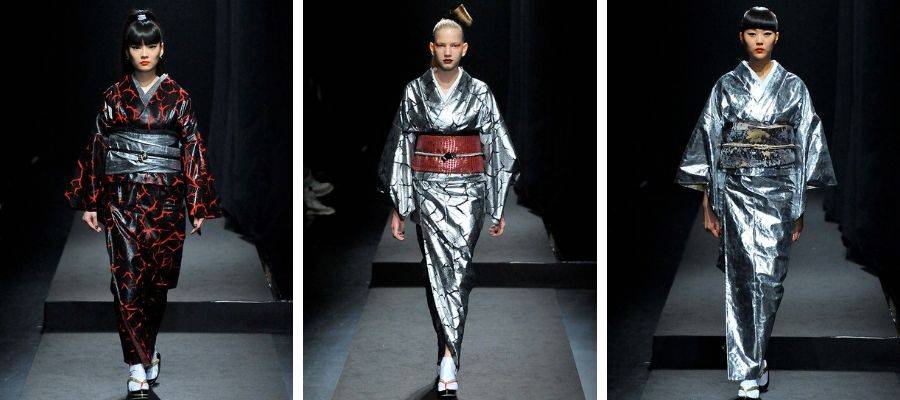 YOSHIKIMONO 2019 Collection
- Images curtesy of http://www.yoshikimono.com/
Robe Japonica is a kimono label run by designer Ueoka and director Oyama. Based in Tokyo, with a shop in Harajuku, the label reinterprets and modernises the traditional kimono through the use of innovative materials and prints. Using the Japanese adage of 'adopt and adapt' as inspiration, designer Ueoka modernises the kimono through the use of french tweeds, boldly printed cottons and juxtaposing materials such as perspex Geta sandals. Ueoka states in an interview with wow.u that he doesn't want to destroy the original form of the kimono but would rather make it more contemporary by incorporating foreign elements such as the patterns and materials. Ueoka also states that 'we shouldn't just think of kimono, Japan's native clothing, as mainly the clothing of traditional culture. We need to integrate a sense of the now into it. It must be a style of living fashion. We must liberate Japanese traditional clothing from the rules and formalities that weigh it down!'. Following this line of thought Robe Japonica offers two distinct lines, the 'Red Line' which is casual and should be considered similar to a t-shirt and jeans and the 'Black Line' which is more formal and luxurious, similar to a suit jacket and slacks. Pictures on Robe Japonicas instagram page showing a Meiko wearing a full traditional kimono dress next to a Robe Japonica customer wearing a contemporary kimono with a novelty print might provide a clue as to how the label hopes to fuse traditional and contemporary styles of Japanese clothing.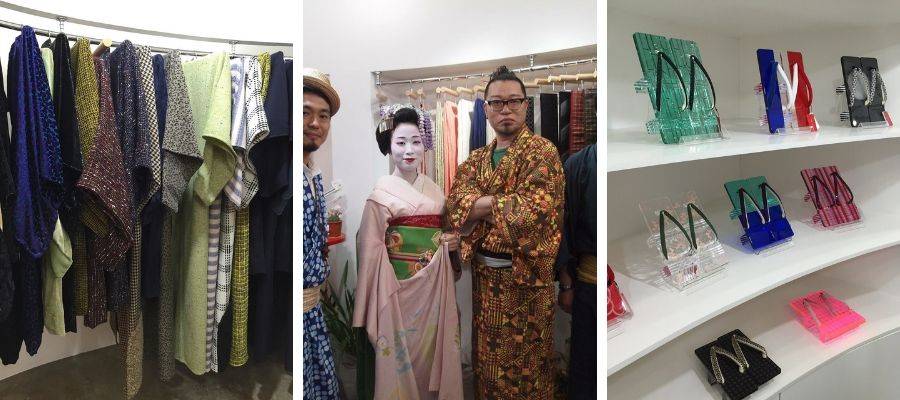 Robe Japonica - Mixing Old and New
Images curtesy of https://www.salz-tokyo.com/robe-japonica-designer-mens-kimono/
Modern Archive is an online space for textile lovers. We're especially obsessed with everything to do with Japanese Kimonos, Ai-zome and Shibori. We write about things that we like in our kimono magazine and occasionally host pop-up events. Find us on Instagram, Pinterest or Facebook. Send us an email to hellomodernarchive@gmail (or blow us a kiss).
Collection 2019
Sale 70% Off
Title for image