Traditional Japanese Clothing - Three Iconic Reinterpretations
Posted by NICK SHOGUN
Cultural Transfer and the Reinterpretation of Traditional Japanese Clothing
The Boston Museum of Fine Arts recently opened an exhibition entitled 'Kimono Wednesdays. Visitors to the exhibition were encouraged to photograph themselves wearing a brightly coloured and embroidered Uchichake Kimono whilst posing in front of a large oil painting titled "La Japonaise" (Monet -1876). The painting depicts Monet's wife, Camille, dressed in a similar style of Kimono and surrounded by a haphazard display of paper fans. Shortly after its opening, the exhibition was permanently closed. The sudden closure was due to the efforts of a small group of protestors who had begun to vigorously insert themselves between the Monets 'La Japonaise' and the Uchichake wearing exhibition visitors - brandishing hand-written signs accusing the Bostom Museum of Fine Arts of, amongst other things, racism and cultural appropriation.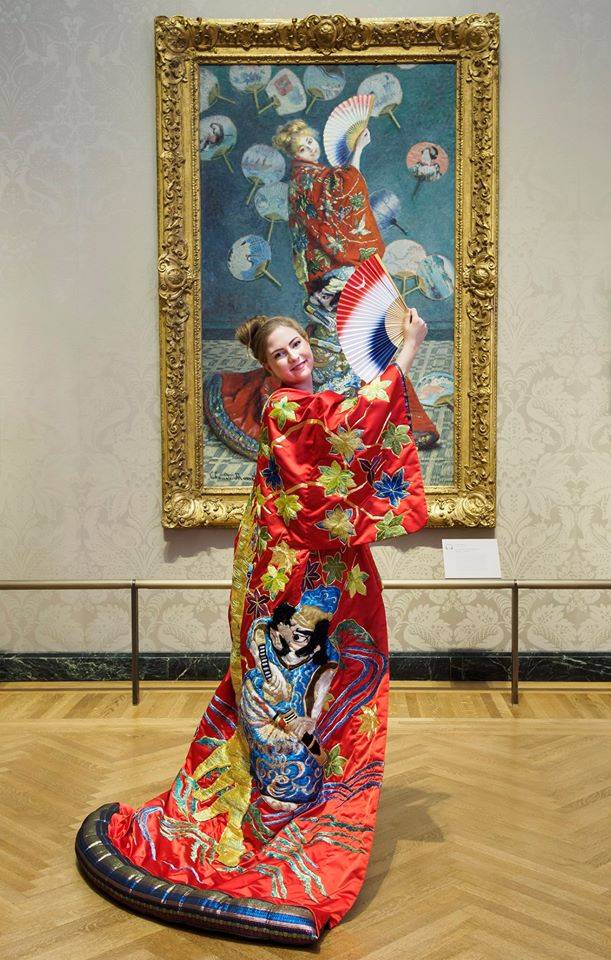 This image was taken at the Boston Museum of Fine Arts, before the exhibition was shut down due to protests
The protests and the surrounding debate made me ponder the multiple ways in which traditional Japanese clothing has influenced, cross-pollinated and been rather blatantly ripped-off by mainstream fashion.Is this a bad thing, a good thing or something in-between? Can I enjoy cross culture amalgamations without being branded a racist? Is it still ok to wear Tabi boots? Are Yohji Yamamoto's Hakama pants only to be worn by Japanese people? Is it weird to wear a Kimono as a European? I for one, am all for cross-cultural amalgamations and reinterpretations - pollination leads to flowering, a blossoming and finally fruit. A new idea, a new shape, a new direction. In the spirit of cross-pollination, I've listed my three most Iconic reinterpretations of traditional Japanese clothing below.
LOW HANGING FRUIT NR. 1 - Margiela's interpretation of the split-toed Japanese tabi sock, the Tabi boot.
Designed during the late 1980s the Tabi boot was first shown drenched in red paint so as to leave visible 'footprints' on the canvas covered runway (the canvas was later removed and used to make jackets). The shoe continued to be produced, as according to Margiela "In the beginning there was no budget for a new form, so I had no other choice than to continue with [the Tabi style] if I wanted shoes". Since its first inception the Tabi has proven widely popular.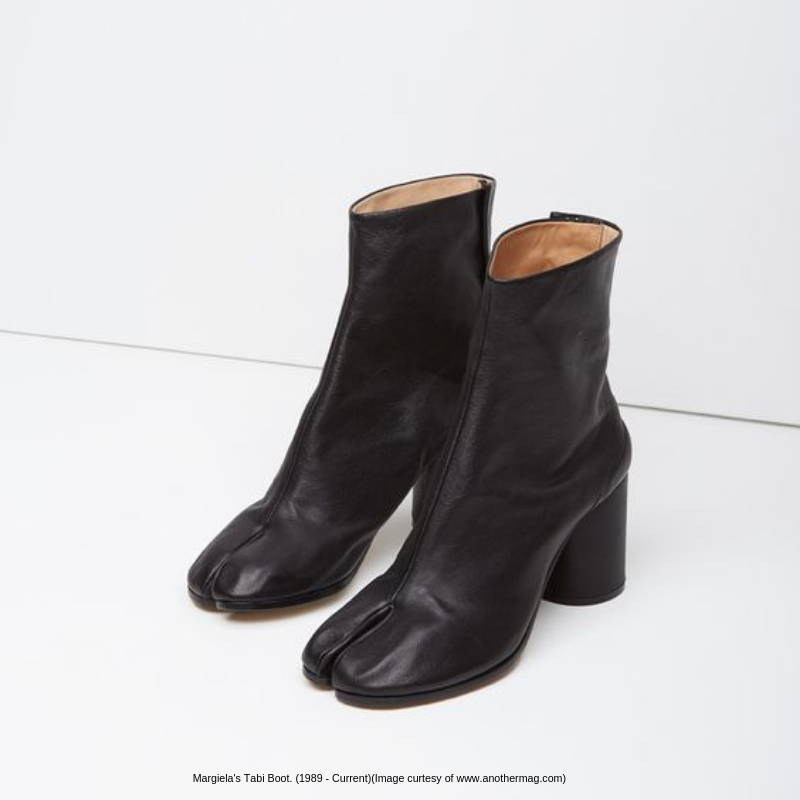 Margiela's now iconic Tabi Boot from 1989
LOW HANGING FRUIT NR. 2 - John Galliano's A/W94 Japonisme collection
Considered a pivotal moment in fashion history, John Galliano's A/W94 Japonisme collection combined the aesthetic of 1920's Japonism with a theatrical presentation. Elfine supermodels meandered through an empty 17th-century mansion wearing cropped micro Kimonos, embroidered obi belts styled as bustiers and slinky slip dresses. The show marked a new era of theatrical presentations within the fashion context and according to AnOther Magazine, became inspirational fodder for a sleuth of legendary interpreters of fashion including Irving Penn and Grace Coddington.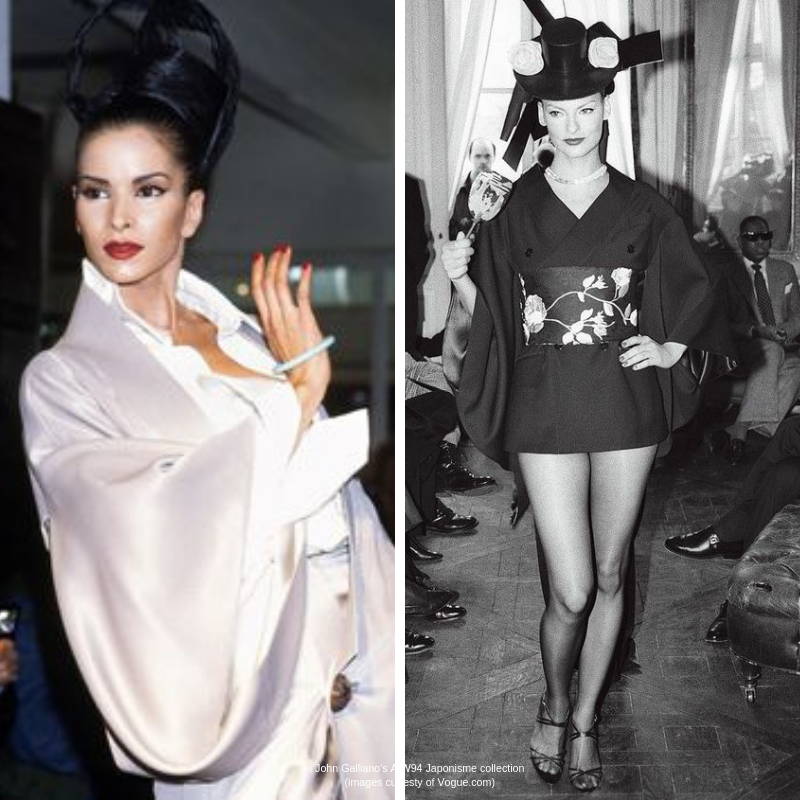 Images from John Galliano's A/W94 Japonisme collection
LOW HANGING FRUIT NR. 3 - Hakama Pants
Hakame is a unisex style of pleated trouser which fall just below the knee. The style originated in the Chinese imperial court and was adopted by Japan at the beginning of the sixth century. Hakama's asymmetrical pleats (two at the back and five at the front) subscribe to the Japanese aesthetic of Wabi Sabi - in particular, 'Fukinsei' which concerns the beauty of asymmetry and irregularity. While it is well-known fact that Japanese designers dislike being pigeon-holed according to their nationality, it is easy to spot the gentle ode to Japanese aesthetics, in particular, Fukensei, that weaves itself through prominent Japanese designers work. Both Yohji Yamamoto and Comme Des Garcons have shown their own version of the Hakama pant.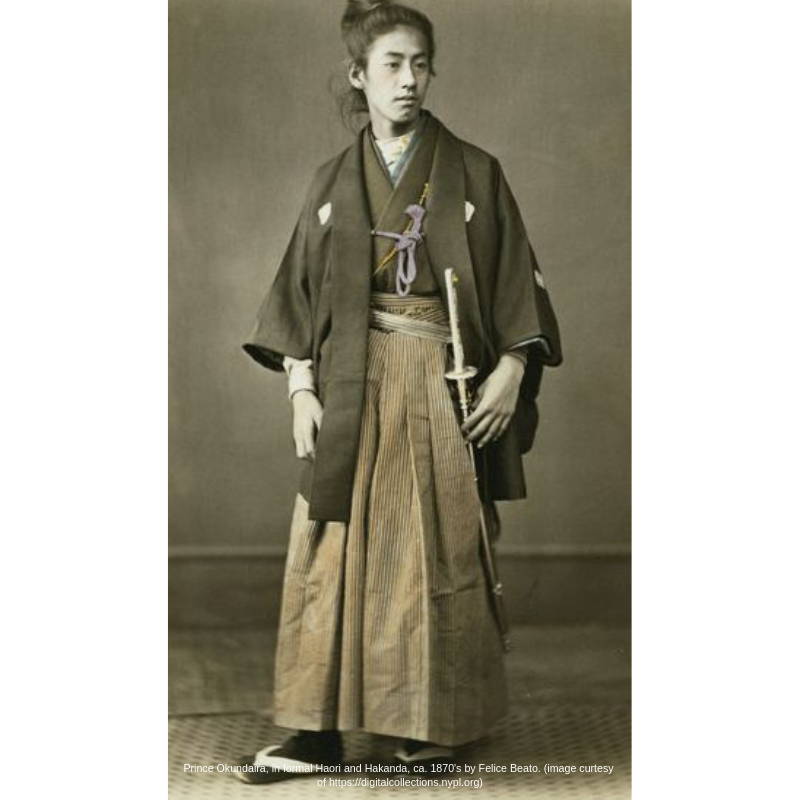 Prince Okundara wearing a formal Haori 
and Hakama Pants in the 1970's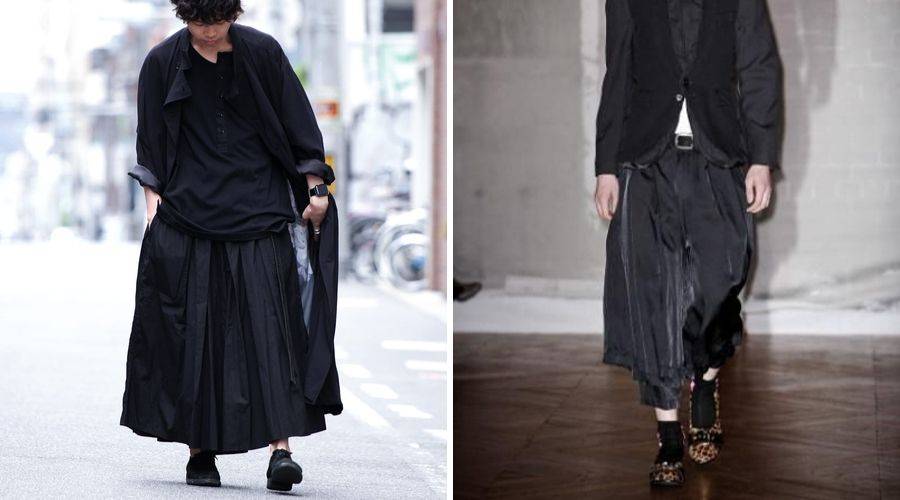 Yohji Yamamoto hakama inspired pants and Comme des Garcons version
What do you think? Any questions? Just want to say hi or blow us a kiss? Send us a message on Instagram!
Modern Archive xx
Modern Archive is an online space for textile lovers. We're especially obsessed with everything to do with Japanese Kimonos, Ai-zome and Shibori. We write about things that we like in our kimono magazine and occasionally host pop-up events. Find us on Instagram, Pinterest or Facebook. Send us an email to hellomodernarchive@gmail (or blow us a kiss)
Collection 2019
Sale 70% Off
Title for image